DESCRIPTION
The precinct, erected in 1687, contains in its interior a neoclassic main altar in which the image of the Virgin of Mercy predominates, as well as a carving of San Miguel Arcángel. Also there is the chapel of Fray Pedro Urraca and the rough wooden cross that, according to the stories, he used to flee from the devil.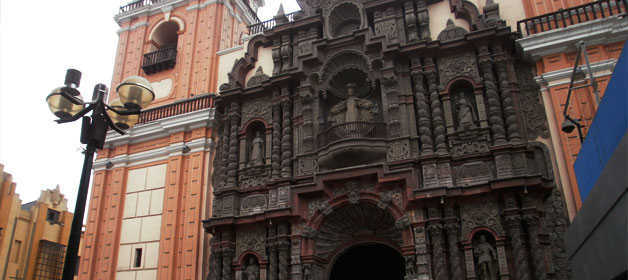 LOCATION
Located at the intersection of Jiron de la Union and Jiron Antonio Miro Quesada.
ATTRACTIONS
Description of the facade and determination of its style:
The facade is a finished sample of the churrigueresque baroque style of Lima and in its central part the image of the Virgin of Mercy appears in a niche, around which others are arranged. After the earthquake of 1746 the church was partially restored; at that time it was also rebuilt the remarkable cover, which adorns the front with its Solomonic columns, which is considered a historical and artistic relic of great aesthetic quality. It was made of a special quality of original granite from Panama, which the galleons that came to load minerals in Callao brought as ballast, a stone used as a weight that was placed at the bottom of the ship, to favor its balance. This so fine cover artistically carved in three bodies, was built using gray and pink stones, forming a combination that is not found in other Lima temples. Its only tower, begun in 1539, was supposed to be higher but was lowered after the earthquake of October 20, 1687.
Description of its interior:
In the interior it keeps altarpieces of diverse styles and sculptures and paintings considered jewels of the viceroyal art. The main altar is less ornate than the other, completely gilded with fire. In the central part stands the effigy of Our Lady of Mercy image that since 1615 was invoked as celestial protector of the City, in 1730 the Civil Cabildo named her "patroness of the fields of Lima" See Hotels, following his intercession against the sterility of the fields, in the Republic was named patroness of the Arms of Peru by the Constituent Congress in 1823. The Virgin carries in her hands the shackles and scapular of her Order, as well as a rich golden scepter and the highest military decorations, as well as other distinctions that demonstrate the great devotion to Mary. This image goes out in procession on September 24th, escorted and carried on silver platforms by the cadets of the Peruvian Armed Forces and numerous public.
SCHEDULE
Hours of operation:
Every day from 10:00 a.m. to 12:00 noon and from 4:00 p.m. to 7:00 p.m.