Inca trails over the mountains, on a road with landscapes of indescribable Andean beauty that crosses, throughout the days that this adventure lasts, archaeological centers that can only be reached by it; that is the Inca Trail. With a controlled capacity of visitors, per month and per year, there is no visitor who does not wish to walk it.

Machu Picchu was communicated with the city of Cusco and the rest of the Inca empire through roads of excellent structure, with ergonomic design, were built in strict harmony with the natural environment and have great aesthetics in its construction. Many of the roads are ledges on the edge of the abyss and are surrounded by beautiful landscapes with lush and varied vegetation. In some sections the road is carved directly into the rock. The Inca Trail to Machu Picchu is considered one of the most spectacular trekking routes on the planet and is the best known of the Inca trails.
ATTRACTIONS:
---
LOCATION
The Inca Trail to Machu Picchu, has been divided into several routes and several sections, most of them start from: Km 82, and Km 104 of the railway route Cusco - Ollantaytambo - Machu Picchu Pueblo.

The most important stretches of the Inca Trail run along the slopes, summits and banks of the Vilcanota River basin.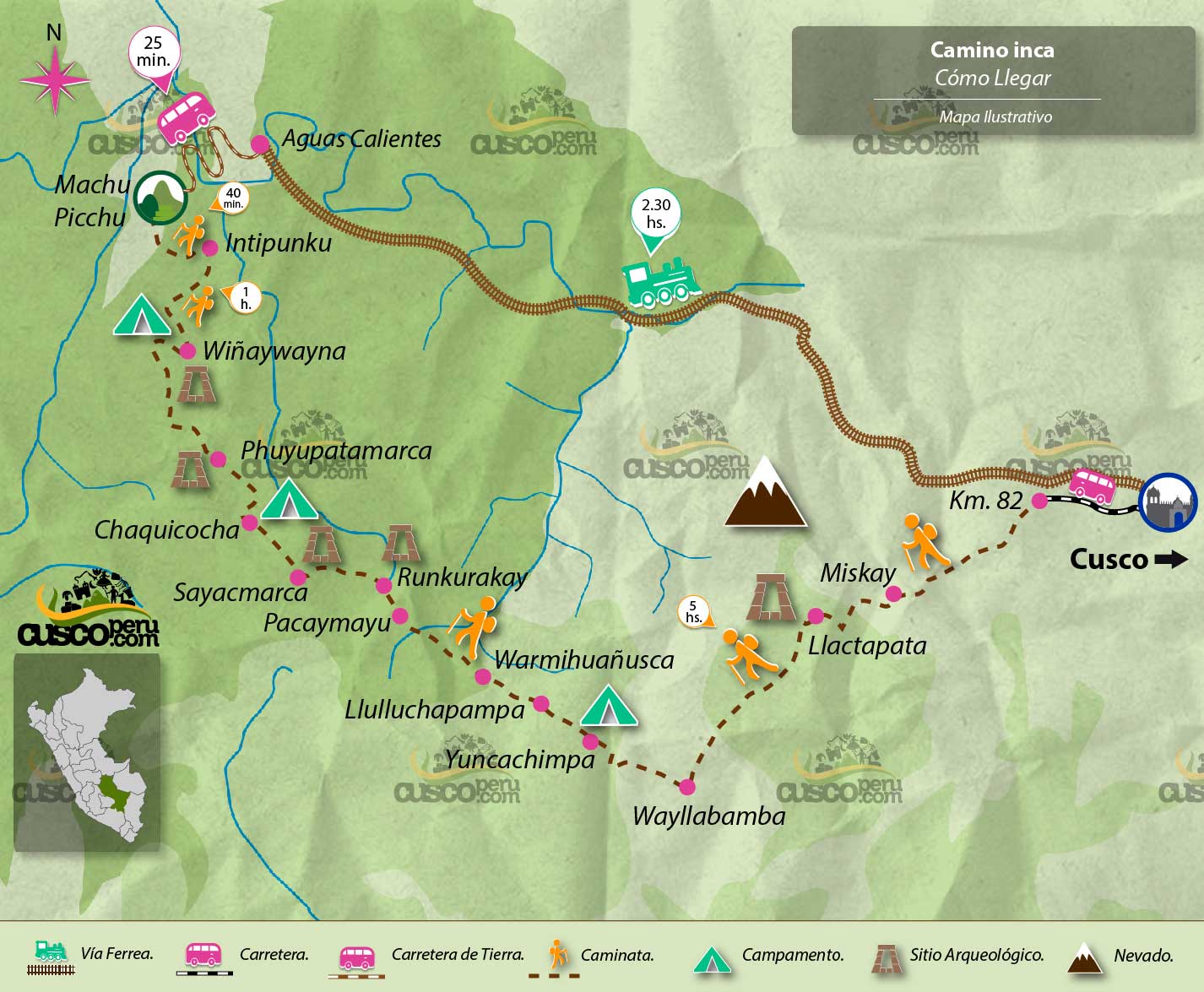 ---
IMPORTANT DATA

Weather:
Rainy Season (December - March)
Dry Season (April - November)
Between the months of April to October, the temperature drops considerably at night, in the early hours of the morning the temperature rises gradually until after midday.
Altitudes on the Inka Trail:
Rutas Importantes:

Hikers can only enter through an agency authorized to operate this route and accompanied by guides authorized by the authority.

Cuscoperu.com has varied offers that we mention below.
Inca Trail to Machu Picchu
Inca Trail to Machu Picchu
Inca Trail to Machu Picchu
The level of difficulty was made considering the ruggedness of the territory, hiking time and the altitude that some parts of the trail reach.