Peru offers one of the most fascinating pantries on the planet, a richness that is due to the Peruvian man and the impressive number of ecological floors that the country has. To the respectful dialogue with the pacha mama, with its 85 geographical and climatic environments. This has been the magic formula for the variety of products that today are a fundamental part of the world's food supply.
Mistura is organized to show the great biodiversity and richness of the country. Around 350 producers from all regions of Peru. Each year there are more than 50 restaurants, 70 carts and around 16 rustic kitchens, as well as regional cuisines and a wider range of beverages.
In addition to the products and dishes to be enjoyed, mistura features contests, awards (Best Young Chef, Best Baker, Best Young Pastry Chef, Inter-schools, etc.) and the best of art and music.
There is also the presence of a large delegation of international chefs and national and international exhibitors.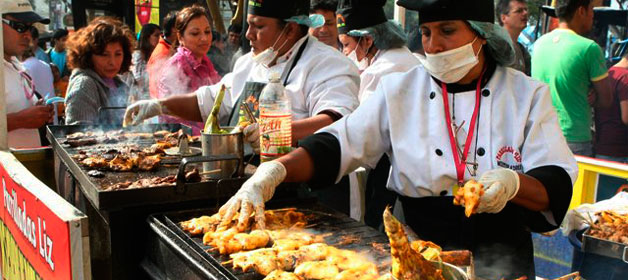 HISTORY OF THE GASTRONOMIC FAIR MISTURA
In 2007, a group of friends met in the north of the country to support regional food and producers as a bastion of the 'gastronomic boom' in Peru. In the midst of the debate, they realized that it was necessary to articulate and take a step beyond the discourse. This is how the Peruvian Society of Gastronomy (Apega) was born.
In 2008, the first version of the gastronomic fair was organized in the former San Martín de Miraflores barracks. That year, the fair was visited by more than 30 thousand people, which motivated the organizers to work hand in hand with the farmers' guilds. The fair was also well received by the media.
Since then, Mistura has consolidated in a few years as the most important gastronomic fair in Latin America and has gained increasing international notoriety.
Date:
In the first half of September, every year.
LOCATION