DESCRIPTION
The first foundation of the church was made on July 17, 1571, by order of the Viceroy Francisco de Toledo, at the initiative of the Provincial Father Jerónimo Ruiz de Portillo. In this work participated builders of the same church, among them the Father Architect Juan Ruiz.
In 1619, the Jesuit Congregation began the construction of the San Bernardo School, managing to conclude the building, whose main characteristic was a gabled roof with cedar trusses, brought from Amaybamba.
In 1651, the Chapel of Our Lady of Loreto (also called the Chapel of the Indians) was begun, concluding this work in three years. By 1654, work began on the construction of the Church of the Society of Jesus, which was completed in 17 years, with the participation of many architects and builders.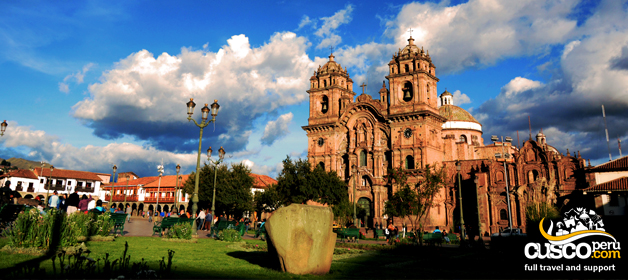 LOCATION
It is located inside the Plaza de Armas, when you get to the square there are two churches, the cathedral is the largest and the middle one is the church of the Compañia de Jesus.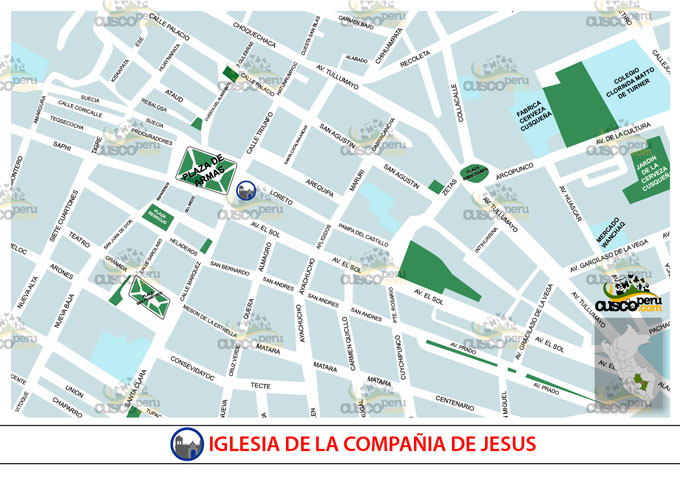 ATTRACTIONS
The Church of the Company of Jesus is a Jesuit church built in the Inca Amaruinca palace. In its interior, it has a single nave where the imposing main altar carved with hybrid style in cedar and completely gilded with gold leaf stands out in the background. It measures 21 meters high by 12 meters wide and in the central portion of the altar is the image of the Virgin of the Immaculate Conception, above a canvas representing the Transfiguration of Jesus. The main nave also has a transept that communicates with the two lateral chapels, six altars with diverse styles and a totally golden pulpit; towards the sides of the main altar there are other 4 altars of cedar, three of them golden and quite ostentatious. It is worth mentioning the canvases representing the life of the founder of the Order, San Ignacio de Loyola, painted by Marcos Zapata and his assistant Cipriano Gutiérrez.
SCHEDULE
Monday to Friday: 08:00 to 11:00 hrs and 13:00 to 17:00 hrs
Sundays: From 09:00 to 10:30 hrs and from 13:00 to 17:00 hrs
Cost: Admission with the religious circuit ticket, or only to this monument with the following amounts:
Partial adult: S/ 10.00 Partial Student: S/ 5.00