DESCRIPTION
The Admiral's house, named after the Spanish Admiral Francisco Alderete Maldonado who ordered it to be built in the early seventeenth century, is one of the most admirable colonial buildings in the city of Cusco. On the outside, it boasts an original Inca wall and the Renaissance façade, located on the corner, is among the best in the city. Flanking the entrance are plateresque fleurons and Corinthian columns with fluted shafts. Above the door, two stone shields contain the noble arms of the Alderete and Maldonado families.
Throughout the last centuries, this colonial house was occupied by several entities and personalities; it was the seat of the Archbishopric, then ephemeral palace of the last viceroy of Peru and, later, the Government House of Marshal Santa Cruz who led the Peruvian-Bolivian Confederation. In the twentieth century it was acquired by the National University San Antonio Abad and, finally, destined to be the headquarters of the Inca Museum.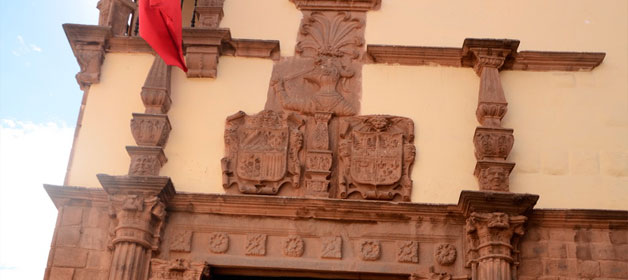 LOCATION
It is located in the center of the city, a few steps from the Plaza de Armas. On the slope of the Admiral N° 103, just in front, you will find the Museum of the Inka or House of the Admiral.
ATTRACTIONS
The Admiral's house is undoubtedly one of the most important civil architectural works of the city of Cusco. Its construction is based on the three cycles of the viceregal period in Cusco. The museum houses a relevant archaeological collection of the Inca culture, as well as pre-Inca cultures, including pieces of pottery, jewelry, textiles, mummies, agricultural tools, Inca musical instruments. In addition to paintings, metal objects from the colonial period.
Its exhibits are divided into six thematic rooms, arranged chronologically from the pre-Inca period to the twentieth century, there are ceramics from different ethnic groups, ceremonial objects, sculptures, and textiles. The Environment room explains the characteristics of the regions of the Inca Empire, their agricultural methods, crops, and tools. The room of the history of the Inka, exhibited in three periods, origin, continuity, and invasion. Mythical, historical, culture and religion are explained. Subsistence techniques on cultivation and livestock.
The activities focus on the explanation of how they made their ceramics for ceremonial and domestic use, tools they used for their impressive constructions. In addition to the Inka art represented by jewelry, costumes, ornaments, weapons, ceremonial elements. They also exhibit about the Inca medicine that was very advanced for the Inca era, as well as the techniques they used in agriculture.
SCHEDULE
Monday to Friday: 08:00 to 18:00 hrs - Saturdays and Holidays: 09:00 to 16:00 hrs
Foreign Adult: S/. 20.00 - Foreign Student: S/. 10.00
Peruvian Adult: S/. 10.00 - Peruvian Student: S/. 5.00