DESCRIPTION
The Sacred Valley is located 15 km north of Cusco. Its altitude is from 2,800 to 3,000 meters above sea level, which gives it a milder climate. Pisac is the starting point of the tourist circuit "Sacred Valley of the Incas", in addition, this traditional town is known for its archaeological park, its craft fairs and its Sunday masses.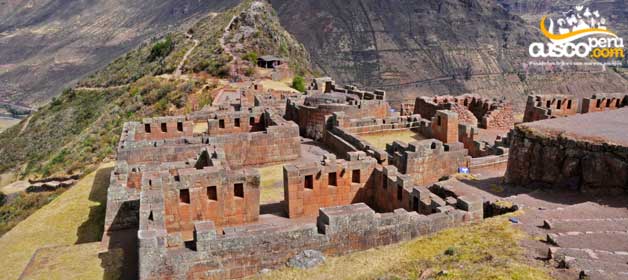 LOCATION
It is located 30 km northeast of the city of Cusco.
ATTRACTIONS
Handicraft market of Pisaq
In its main square, under centennial trees, on Tuesdays, Thursdays and Sundays there are craft fairs that are very popular for the diverse and colorful textiles and decorative ceramics offered there.
Ñust'ayuj or ChakaChinpa Hill
In the lower third of this hill there are about twenty Inca terraces, the paved road enters through there in the ravine; this group of terraces is called Chaka Chimpa which means "on the other side of the bridge"; in the upper third of the hill there is a natural formation with a human figure that looks like a peasant woman with a montera and a bundle on her back. In front of the hill where the Inca city of Pisac is located, to the southwest and on the other side of the Vilcanota River rises this hill that is part of the Pacha Tuan chain.
Sunday Masses
The inhabitants of this town and the nearby rural communities are eminently Catholic, so they are no strangers to the celebrations of the Eucharist. In the temple of Pisac, a Sunday mass is held in Quechua with the attendance of the mayors or varayoc wearing native costumes and accompanied by the sound of pututos (a kind of drum).