DESCRIPTION
It is the capital of the district of the same name, which belongs to the province of Urubamba. It is one of the most representative towns of Cusco in general. Known for its archeology and handicrafts.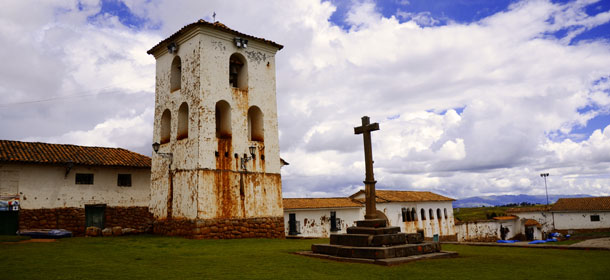 LOCATION
It is located 30 km northeast of the city of Cusco.
ATTRACTIONS
Craft fair
The Chinchero fair is one of the most important in the region due to the high quality of the handicraft products sold there, internationally recognized for their excellent work and beauty. In these fairs we can see that the barter (ancient form of exchange of products) is still in force; in Chinchero, the granddaughters of the Inca princesses, continue weaving wool and making garments, as the ajllas did for the children of the Sun, in imperial Cusco.
Cultura Viva
Chinchero is one of the few places where it seems that time does not pass, since the traditions and Inca culture still persists. The people who live there are of Inca blood and the predominant language is Quechua, although almost all the inhabitants of this area speak Spanish as a second language.
Agriculture
Their fertile lands make them excellent producers of potatoes, ollucos, ocas, broad beans, barley and wheat, traditional products whose cultivation dates back to Inca times and even tod