DESCRIPTION
The building that can be appreciated today is not the same of previous centuries, of it only some vestiges remain, such as: the lateral walls and the frontispiece. The whole building was transformed, and its last reform was in the XX century, where the whole interior was ornamented, in which can be appreciated canvases of the Italian school; the beautiful decoration of the chapter house, which houses the old carved cathedra; and the sculpture of Death that was created in the XVIII century by Baltasar Gavilán.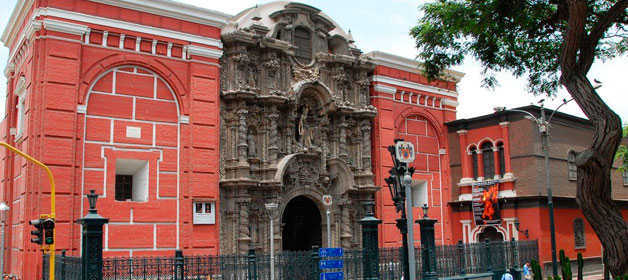 LOCATION
Located at the intersection of the fourth block of Jiron Camana with the second block of Jiron Ica.
ATTRACTIONS
The facade is an architectural work of Churrigueresque baroque style, overloaded with ornaments, carved in stone, which was completed in 1710, consists of three streets and three bodies, being the central street of the first body which houses the door where you enter the enclosure. On this one there is a cornice of vertical arch, determining characteristic for being original of the architecture of the Peruvian baroque. In the niches of the facade there are ten images besides the one of San Agustín that is to the center. Its importance also lies in the fact that it is one of the two remaining Churrigueresque style façades in Lima, together with the façade of the Basilica of La Merced. The interior of the Temple has been transformed at the beginning of the XX century and in it there are works of great value as the choir stalls, the coffered sacristy, the coffered ceiling of the antechristy, its pictorial collection and the courtyard of the main cloister with beautiful portals.
SCHEDULE
From 10:00 a.m. to 12:00 noon and from 4:00 p.m. to 4:00 p.m.