DESCRIPTION
The Exposition Park was built during the government of José Balta shortly after the collapse of the Lima Wall (bastion of the Pacific War). It was inaugurated next to the Palace of the Exposition (today Museum of Art) in 1872. During the celebration of the Centennial of the Independence (1921), the beautiful Chinese Fountain was inaugurated, a gift of the Chinese colonists settled in Lima.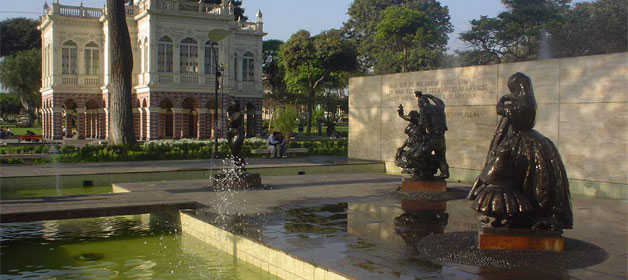 LOCATION
Located in downtown Lima, it is bounded by Paseo Colón, Wilson, Paseo de la República and 28 de Julio avenues in the heart of the Santa Beatriz neighborhood.
ATTRACTIONS
The traditional Parque de la Exposición is one of the most beautiful parks in Lima and in its interiors you will find the Museo de Arte de Lima, the Parque Japonés and the Museo Metropolitano de Lima. Also in this park we will find:
The "Nicomedes Santa Cruz" amphitheater, in homage to the Afro-Peruvian poet and essayist. The capacity of this amphitheater is close to 4 thousand people. Its facilities are required for presentations of national and international level.
The "La Cabaña" Theater, which performs theatrical presentations and cultural shows for children and adults. It has large and beautiful gardens, which are conditioned for family and social events such as weddings and anniversaries as well as business and institutional celebrations.
This park also has: A parking esplanade that is used for craft fairs, mechanical games, a lagoon for pedal boats, and puppet islands.
SCHEDULE
Monday to Sunday from 09:00 - 20:00 hrs.
Admission: Free