De La Reserva Park
DESCRIPTION
The Magic Water Circuit, recently inaugurated in the Parque de la Reserva, has become one of the new and most visited tourist attractions of this city. Awarded with the Güines Record and unique in America, this circuit surprises us with thirteen impressive fountains that combine movement, lights, sounds and images. A show full of fun, a place to visit with the family.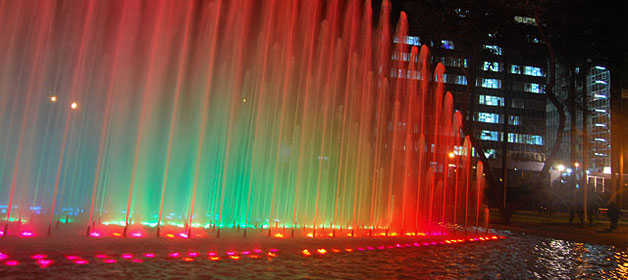 LOCATION
It is located 3.8 km south of Lima's main square.
ATTRACTIONS
Sources available:
Magic fountain, fantasy fountain, illusion fountain, visitable dome fountain, tianguis fountain, harmony fountain, rainbow fountain, tunnel of surprises fountain and five other small fountains.
The Architecture of the Reserve Park
It is the maximum expression of the Art Deco style, with a decorative trend of the 20's and La Belle Époque where geometric figures and zigzags stand out, its style is Neoclassical.
The Grand Lodge
The design of the Loggia has Italian influence, it is a gallery or portico that is at ground level and is open on both sides, being supported by columns and arches. It is the main architectural element of the Reserve Park and the 80 m high Magic Fountain.
Sabogal House
Also known as the Inca house, because the pre-Columbian figures are depicted there, it represents the maximum expression of Indigenism in the Reserve Park.
Fuente de los Ñocos (Fountain of the Ñocos)
Sculpture of a boy playing marbles, a very popular game "El Jugador de Ñocos".
Monument to Fermín Tanguís
It consists of a building constructed by the Peruvian architect, sculptor and urban planner Manuel Piqueras.
Plazuela de las Indígenas
It is an equestrian monument of Marshal Antonio José de Sucre in the Plaza of the same name.
SCHEDULE
Wednesday through Sunday and holidays from 3:00 p.m. to 10:30 p.m. Fantasy Fountain Show: 7:15 p.m./ 8:15 p.m./ 9:30 p.m.
Admission to the Parque de la Reserva is free from 6:00 a.m. to 1:00 p.m. During these hours the fountains are under maintenance.
Services and rates: General admission: S/. 4.00 Children under 5 years old have free admission. Internal parking:
S/.10.00 per car.
Other free services: wheelchairs for disabled and elderly people, external and internal security, dressing rooms, guided tours for groups.