DESCRIPTION
The Museum of the Nation was created in 1988 as an integrating entity of the diverse cultural expressions of the country. It is today one of the two largest museums in Peru and an important cultural center.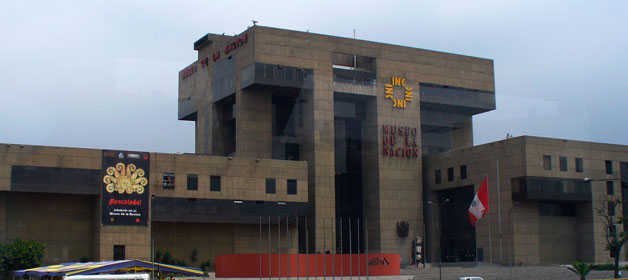 LOCATION
It is located at the intersection of Av. Aviación and Av. Javier Prado.
ATTRACTIONS
The Museum, as a great curator of Peruvian heritage, has thousands of original pieces corresponding to the different periods of Peruvian history. These have been obtained through archaeological research and the recovery of goods that had been illegally trafficked. This great collection is made up of more than 12,500 pre-Hispanic pieces, including collections of ceramics, metals, and textiles from the Paracas, Moche, Wari, and Lima cultures, among others; and more than 2,500 historical pieces of art from the colonial and republican periods, including collections of colonial, popular, and contemporary art.
The Museo de la Nación also serves as the great cultural center of the country, therefore, in its halls are held various activities, such as lectures and educational workshops, and in its auditoriums are presented the national casts of Ballet, Folklore, the National Symphony Orchestra, the National Choir, among others.
SCHEDULE
From mondays to sundays from 9:00 a.m. to 5:00 p.m.