DESCRIPTION
It stands out for its wide façade and the excellent state of preservation of its baroque balconies. Its colonial style shows the combination of different construction techniques, since it began to be built at the end of the XVIII century and was finished between 1803 and 1805.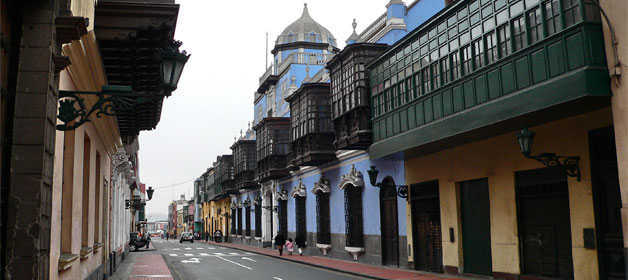 LOCATION
Located at Jr. Conde de Superunda 298 - Lima
ATTRACTIONS
Facade:
The facade of the Casa de Osambela is of neoclassical style, with reminiscences of rococo. It shows five balconies, Louis XVI style, ornamented with garlands and accompanied by three parapet balconies. At the top it has a lookout covered by a small dome of Muslim silhouette.
Interior:
Unlike most of the viceregal houses in Lima, the rooms of the house are distributed parallel to the street, which makes its facade extensive enough to accommodate five balconies of drawers and Louis XVI style. In the same way, the distribution of its patios was the other way around, differentiating it from the rest of the constructions of the viceregal period, which ordered their facilities distributed "in depth" and not in the sense of the façade.
SCHEDULE
Monday to Friday from 9:00 a.m. to 5:00 p.m.
Fee : Free of charge