DESCRIPTION
Ceramics, textiles, metals, organic and lithic material related to priceless human remains make up the legacy of our pre-Hispanic past. Objects of historical-artistic value and documentary, photographic and bibliographic collections give an account of Peru's colonial and republican periods.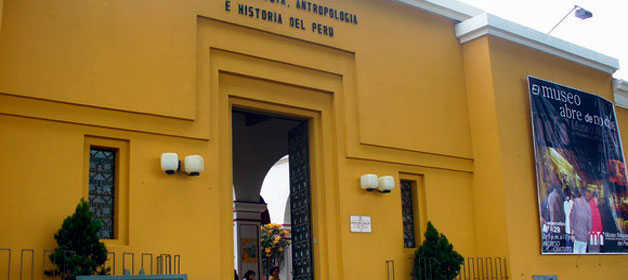 LOCATION
Plaza Bolivar s/n Pueblo Libre…
ATTRACTIONS
Among its most important treasures are the Crossed Hands of Kotosh, the Raimondi Stela, the Tello Obelisk, the Mantos de Paracas, and paintings from the viceroyalty period, mainly from the Cusco School.
Cuenta con talleres de conservación de objetos arqueológicos destacando los textiles y metales; al igual que taller para niños y adolescentes. Ceramios, textiles, metales, material orgánico y líticos relacionados a invalorables restos humanos conservados con técnicas que aún sorprenden a los especialistas, conforman el legado de nuestro pasado prehispánico. Objetos de valor histórico-artístico y fondos documentales, fotográficos y bibliográficos dan cuenta de los períodos colonial y republicano. Todos ellos hacen de este espacio un lugar de encuentro con la historia del Perú. Su histórica arquitectura se constituye en el lugar ideal donde todos, sin importar su edad y procedencia, pueden descubrir, revivir y cuestionar las vivencias de nuestros antepasados.
SCHEDULE
Hours of operation:
Tuesday through Saturday 9:00 a.m. - 5:00 p.m.
Sundays and holidays 9:00 a.m. - 4:00 p.m.
Admission fee:
Adults: S/. 11.50 nuevos soles
Children and school children: S/. 1 nuevo sol
Students of higher education, teachers an