As Ilhas Ballestas
DESCRIPTION
The Paracas National Reserve, one of the main natural destinations in the country, covers 335,000 hectares between coastal desert and adjacent sea, where species of flora and fauna such as sea lions, Humboldt penguins and migratory birds live. As a protected natural area, the Paracas National Reserve has a series of indications and restrictions on the activities to be carried out. To enter, it is necessary to obtain the respective permits and take into account the importance of maintaining the area and preserving its species.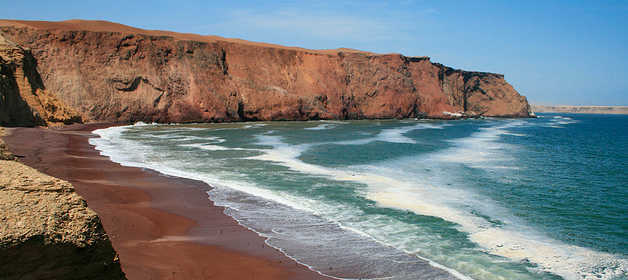 LOCATION
It is located in one of the most desert-like points of the Peruvian coast, in the department of Ica, and covers an area of 335,000 ha - some 200,000 on the Pacific Ocean. The Paracas Peninsula is located in an exceptionally rich marine area, whose extremely cold water outcrops produce an abundance of plankton that nourishes fish, crustaceans and mollusks.
ATTRACTIONS
The highlights of this reserve are its surreal landscapes and rich biodiversity that translates into a large number of species of birds, fish, shellfish and mammals such as sea lions and sea otters that are vulnerable. The place is ideal for migratory bird watching. Some landmarks for the visitor are Lagunillas Bay, the Otuma Salt Flats, Independencia Bay, the Ballestas Islands or the beaches of La Mina and Mendieta.
Ballestas Islands
It starts at the artisanal dock of El Chaco on board of fast sliders. During the trip you can see part of the bay of Paracas and the famous Candelabro engraved on the sand.

Land tour of the reserve
It allows the observation of flamingos or parihuanas from a viewpoint, near the sea, at the height of the interpretation center of the reserve. You can access La Mina and El Raspón beaches as well as the Punta Arquillos wolf lookout point (approximate duration: 1 day).
SCHEDULE
Consult with your travel agency.