DESCRIPTION
It is one of the fundamental pillars of tourism offered by the Provincial Municipality of Nazca.
This museum currently has areas for the auditorium, storage, recreational workshops for children, surveillance room, and exhibition rooms in which the remains left by the Nazca culture are displayed.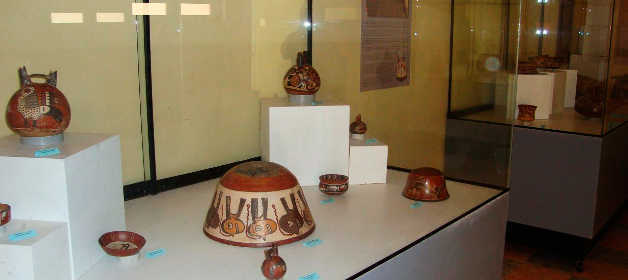 LOCATION
It is located at approximately Km.400 of the Panamerican Highway South.
ATTRACTIONS
It exhibits a great variety of textiles, works in metal, wood and bones of the Nazca, Chincha and Tiahuanaco cultures, standing out in this museum a funeral bundle of the Nazca Culture and the sample of a trophy head.
SCHEDULE
Monday to Saturday : 9:00 a.m. to 5:00 p.m.
Holidays : 9:00 a.m. to 1:00 p.m.
Cost: Foreigner and National: S/. 5.00