The Festivity of the Lord of Qoyllur Ri'ti takes place in the province of Quispicanchis, district of Ocongate. It takes place at the base of the Sinakara mountain.
The main ceremony takes place at the foot of the Ausangate snow-capped mountain, at 4,700 meters above sea level and at temperatures below 0 ºC.
They are accompanied by different dancers (chauchos, qollas, pabluchas or ukukus) who symbolize different mythical characters. The ukukus (bears) are the watchers of the Lord, as well as of Apus and apachetas (mounds of stones placed by the pilgrims, as atoned sins), and those who maintain the discipline during the liturgical acts. A group of strong Queros, inhabitants of what is perhaps the purest Quechua community in Peru, disguised as "pabluchas", set off to the summits of the snow-capped mountain (6,362 m.a.s.l.) in search of the Snow Star that is locked in its entrails. On their way back to their communities, these strong villagers carry large blocks of ice on their backs to symbolically irrigate their lands with the sacred water of Ausangate.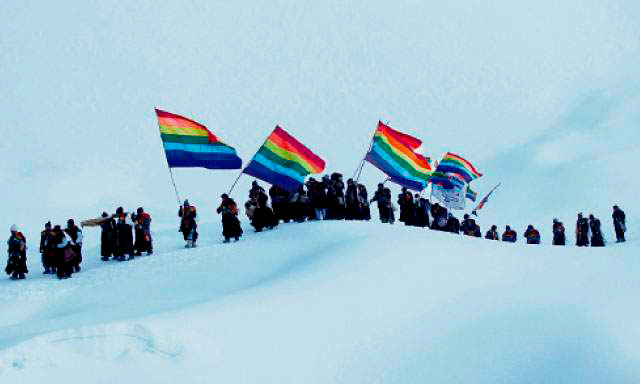 FEAST OF THE LORD OF QOYLLUR RIT'I
The following are the best-known stories about the origins of this religious holiday.
History
The inhabitants of the district of Ocongate (Quispicanchis), in the department of Cusco, perform a rite whose external symbol is the image of Christ, but its underlying object is the integration of man with nature.
The ritual, associated with the fertility of the earth and the worship of the Apus (hills, tutelary gods), is part of one of the largest festivals of indigenous nations in America. The main ceremony takes place at the foot of the snow-capped Ausangate, the ritual consists of a pilgrimage of shepherds, traders and onlookers who gather at the sanctuary of Sinakara. According to the belief, Baby Jesus, disguised as a shepherd boy, appeared to an indigenous boy, Marianito Mayta, and the two became friends. When the parents found them dressed in rich attire, they alerted the local parish priest, Pedro de Landa, who tried to capture him but without success, because a stone appeared in the Child's place. Marianito died immediately and the image of the Lord of Qoyllur Ri'ti was fixed on the rock.
Fecha:
La peregrinación al Señor de Qoyllur Rit'i se lleva a cabo entre los meses de Mayo y junio, la fecha es movible.
La fiesta empieza el día de la Santísima Trinidad, cuando más de 10.000 peregrinos ascienden hasta el límite de las nieves perpetuas. Se alcanza temperaturas mínimas (-4 °C). El camino se acompaña con una procesión, fuegos artificiales y el mercado simbólico de "las Alacitas" (feria de artesanías en miniatura).
LOCATION: