DESCRIPTION
It was built in the second half of the eighteenth century in what was the old neighborhood of Pachacamilla. Two fluted and gilded Tuscan columns support the baroque style façade. Inside, as an urn, lies an image of Jesus crucified, which was painted in oil on a rough adobe wall by a black Angolan slave.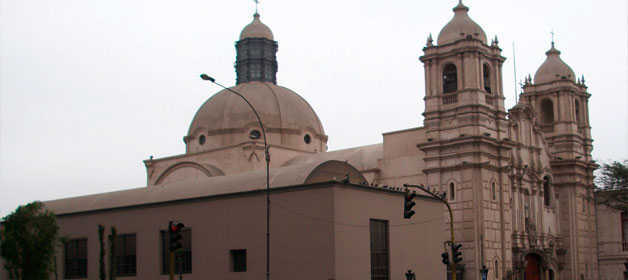 LOCATION
It is located in the perimeter formed by Tacna Avenue and Jiron Huancavelica, in the old Pachacamilla area.
ATTRACTIONS
The Temple or Sanctuary of Las Nazarenas, in whose Main Altar is the Sacred Image of the Lord of Miracles, has its origins in this ancient representation of Christ on the Cross, painted on a humble wall of a shed in 17th century Lima.
Every year the Sanctuary receives countless devotees of the Moreno Christ, who animated by faith wish to admire the original image that the slave painted more than 359 years ago and that remains intact to this day, as a miraculous sign of a divine gift to the city of Lima.
SCHEDULE
Every day from 6:00 am to 12:00 noon and from 4:00 pm to 8:00 pm.