DESCRIPTION
It is said that this complex was one of the oldest religious centers in America (400 B.C. - 400 A.D.). Cahuachi means "place where the seers live" and is located 28 kilometers from the city of Nazca. It occupies an area of 24 km² and is a citadel built in adobe, where ceremonial pyramids stand out: the Great Pyramid (28 m high and 100 m long), the Great Temple, the Step Temple and the Mounds. It is located on a sloping terrain facing the Nazca lines, and the whole complex is surrounded by a great wall.
It was the most important habitation and ritual center of the Nazca culture that developed between 400 years after Christ and was used to make offerings related to agriculture, which was its main activity. For many researchers, Cahuachi sets the standard for housing expansion in the South Coast.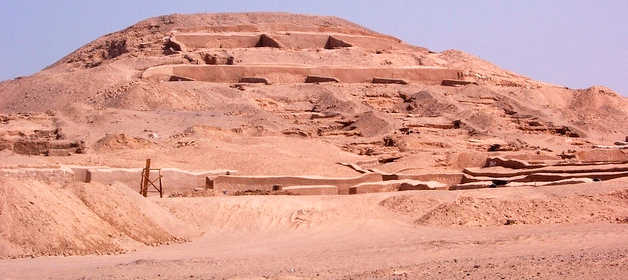 LOCATION
It was built on the left bank of the Nazca River, which flows into the Pacific Ocean. It is currently within the jurisdiction of the province of Nazca, department of Ica, in southern Peru. It is 42 kilometers from the sea and 28 kilometers from the actual city of Nazca. It is 360 meters above sea level.
ATTRACTIONS
Among the most representative attractions of Cahuachi we have:
The Great Pyramid
One of the most imposing buildings in the city of Cahuachi is the "Great Pyramid" which is 110 m long, 90 m wide and 28 m high, and is composed of 7 stepped platforms. In the "Great Pyramid" archaeologists found a deposit of 200 textiles, several of them hand-painted, which is a rarity in the Nazca culture because until then only embroidered textiles were known.

The great temple
Another important building in the city of Cahuachi was the "Great Temple" or "Templo Mayor", which archaeologists estimate to be 150 m long, 100 m wide and between 15 and 20 m high. The main ceremonies of theurgy or high magic, which were performed by the important priestly caste of the Nazca Culture, took place there.
SCHEDULE
Admission (all year round).
Monday to Sunday from 9:00h to 16:00h.