DESCRIPTION
The church of Santa Catalina has a great history during the Inca period, there was the "Acllahuasi" or House of the chosen ones. It is a few meters from the main square of Cusco. It is made mainly of adobe and stone, on the foundations of an Inca Acllahuasi (cloister of Inca princesses who worshiped the sun). Its baroque architecture has a high vault supported by crossing arches. The church has a convent that houses a collection of relics, historical pieces, canvases, and furniture from the colonial era.
Founded in 1605, the church treasures beautiful baroque altars and a superb pulpit. The altars were the work of the masters Pedro de Oquendo and Diego Martínez de Oviedo (both from the XVII century.) Their oil paintings are signed by Juan Espinoza de los Monteros and Lorenzo Sánchez de Medina in the second third of the XVII century. The cloisters have fountains. Currently, it continues to be a convent of nuns.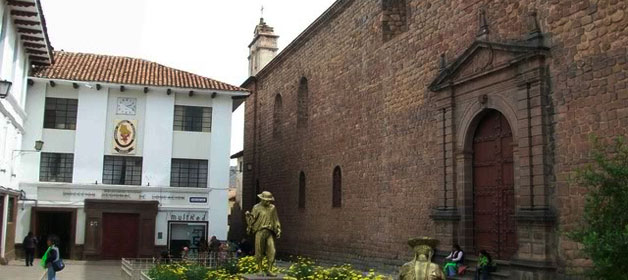 LOCATION
The church and convent of Santa Catalina is located 100 meters from the Plaza de Armas of Cusco. Its exact address is Calle Santa Catalina, Angosta without number.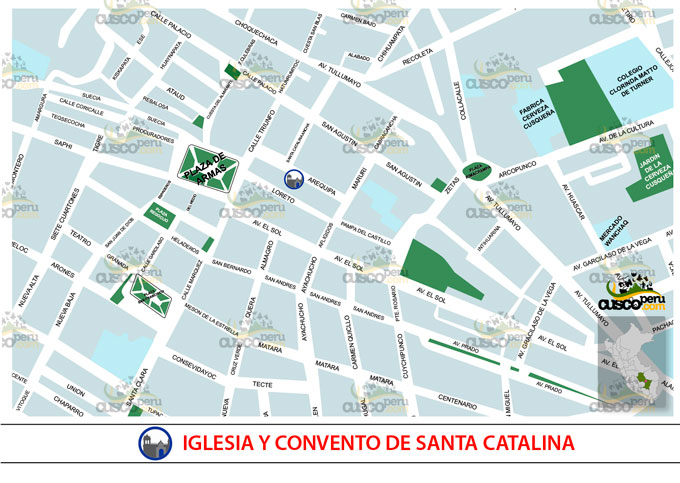 ATTRACTIONS
It has a high altar of gilded cedar with mixed style, in the central portion and upwards is the image in bulk of the "Sacred Heart of Jesus" and further down Santa Catalina and Santo Domingo; it has a pulpit carved in cedar and other four minor altarpieces all gilded.
It has a magnificent museum that exhibits diverse canvases that represent the Lord of the Tremors, the life, and miracles of Santa Rosa de Lima. Furthermore, it represents the life of Santo Domingo de Guzmán, painted by Juan Espinoza. In addition, there is an exhibition of chasubles embroidered with precious metal threads.
On the second level also highlights a beautiful altarpiece of the nativity that when folded becomes a trunk. And the choir, accompanied by a rustic organ, beautiful canvases that represent the life of Santa Catalina.
SCHEDULE
Monday to Friday: 8:00 am until 17:30 pm.
Admission fee: Adults: S/. 8.00 (2 dollars). Students: S/. 4.00