DESCRIPTION
Traditional information indicates that when the Inca was about to visit the Tambomachay baths, the formidable retinue of soldiers and dancers stayed in Pukapukara, which was the barracks and tambo. It is said that the existing chincana in the place communicated precisely with Tambomachay, which is not proven.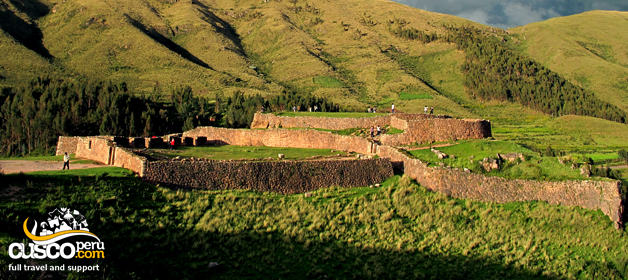 UBICATION
The archaeological remains of Pukapukara, is located at the top of the road leading to Pisac, about 7 km from the city of Cusco. To get to Pukapukara you can take a City Tour from any travel agency (almost all of them offer this type of service). You can also get there on foot once you visit Tambomachay, since it is only 1 km from the Inca bath.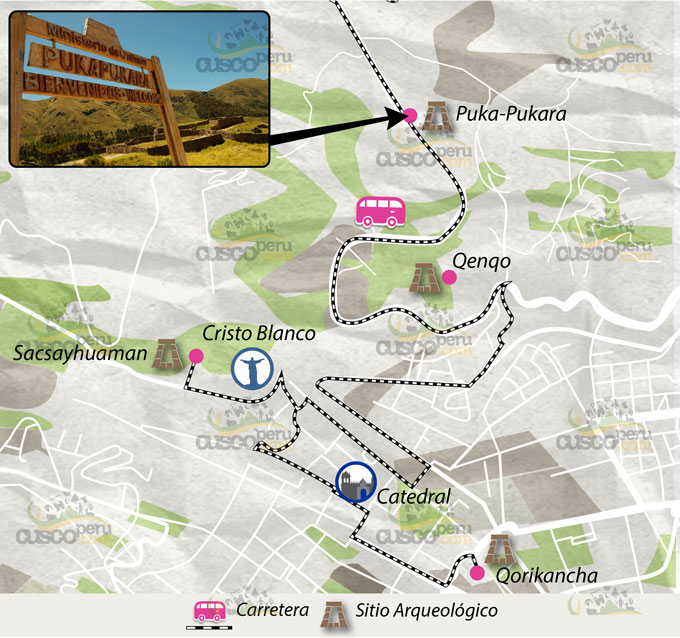 ATTRACTIONS
In Pukapukara there are interior plazas, baths, aqueducts and an ancient road that is very well known. The buildings are made of stones that have many sizes between medium and small, the surface of the rocks is very rough, comparing with the archaeological rest of others. The urban layout is adequate and functional.
In this complex was built three walls that have irregular floors, this construction has three levels for the same place. The first wall has a sinuous layout that carefully avoids cutting the protruding rocks. To the north and behind the outer wall, six rooms of different sizes can be found, they are built irregularly so as not to touch the rocks that create the wall. The second wall surrounds the central elevation. Between it and the first there are platforms that are very wide, facing south and east.
SCHEDULE
Hours from Monday to Sunday: 08:00 to 17:30 hours.
Price: Entrance included in the Tourist Ticket.
Cusco Tourist Ticket for foreign tourist: S/. 130.00 (US$ 36 approx.) allows the entrance to 16 tourist sites, valid for 10 days.
Cusco Tourist Ticket for National Tourist: S/. 70.00 (US$ 20 aprox.) allows the entrance to 16 tourist sites, valid for 10 days.