DESCRIPTION
It was built by Gaspar Báez in 1578, which collapsed in the earthquake of 1582. Eight years later the Jesuit Diego Felipe began the second construction of the temple, following the plans of Gaspar Baez. It was later damaged by the earthquake of 1687, whose restoration was completed in 1698. The earthquake of 1868 demolished the tower; the new bell tower, made according to a different design, was demolished in the earthquake of 1960.
This complex is composed of several buildings erected by the Jesuits for religious purposes as well as for housing, with a Latin cross plan and consists of three deep naves, side chapels, a transept and a dome on pendentives. The temple and the facade, like the rest of the colonial monuments of the city of Arequipa, are made of ashlar stone.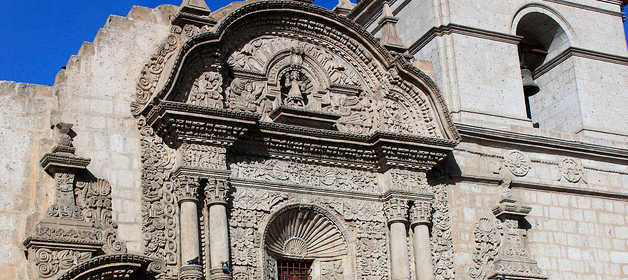 LOCATION
Located in the Plaza de Armas, between the Portal de la Municipalidad and the Portal de Flores.
ATTRACTIONS
This church has a façade of two bodies. The inferior body has three streets between double and paired columns, The superior part of the great facade, has a single central street, presents double columns and finishes in a frontispiece of three lobes lodging a niche where a San Miguel sculpted in ashlar is seen.
A pulpit carved in fine wood gilded in gold leaf, shows a fine carving that looks like gold filigree, in the parapet and the turnstile.
The main altar in baroque style is monumental, all in gold leaf. It houses in its niches images of saints like San Ignacio de Loyola, founder of the Company, San Francisco de Borja, Duke of Gandia and Great of Spain. In this altar there is also an image of the heart of Jesus.
SCHEDULE
Monday to Sunday: 9:00-11:00 hrs and 15:00-18:00 hrs