DESCRIPTION
When the city was founded on August 15, 1540 in the valley of the Chili River as "Villa de la Asunción de Nuestra Señora del Valle Hermoso de Arequipa" the city began to be built and with it the main square.
Surrounded by the Cathedral Church and several portals, the Plaza de Armas has a beautiful bronze fountain with three plates crowned with the figure of a soldier from the XVI century. This character is called the "Tuturutu", who according to history was in charge of warning of any new event.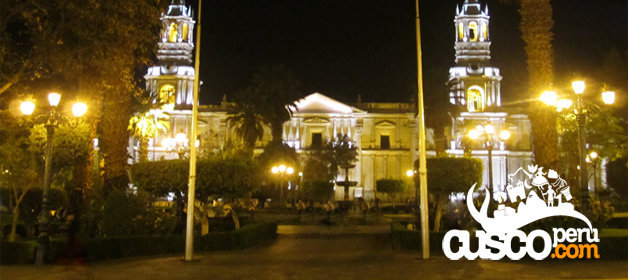 LOCATION
The Plaza de Armas is located in the historic center of Arequipa, and in its surroundings are the Cathedral of Arequipa, the famous Portales de Arequipa and, exactly in the center of the square, there is a bronze basin with a sculpture of a little elf carrying a trumpet.
ATTRACTIONS
Cultural Attractions
Arequipa Portals
The Plaza de Armas of Arequipa has three large portals in which formerly functioned the town hall of Arequipa in the viceregal era and since the republican era has functioned the municipality of Arequipa. The portals have a neo-Renaissance architecture and are made of granite.
Swimming pool in the plaza
In the center of the square there is a bronze basin with a copper sculpture of a little elf with a trumpet, it is said that he once had wings, but over the years he lost them, this sculpture is known as Tuturutu. There is a myth that says that it represents a soldier of the XVI century. The closest source to the character that concerns us is the presbyter and historian Ventura Travada y Cordova, who in his book: "El suelo de Arequipa convertido en cielo" tells us about it: "corónala (referring to the basin) an angel by fame, whose mouth rises the water in a very high plume".
SCHEDULE
Access to this square is completely free.