DESCRIPTION
Pucará characterized by two types of architectural manifestations; one of monumental characteristics of probable ceremonial function and another rustic possibly of houses; being the most known the ceremonial sector constituted by artificial truncated pyramids by way of terraces, predominating the main pyramid KALASAYA.
It excelled in hydraulic and architectural engineering, through its monoliths, dwellings, subway constructions and ceremonial centers.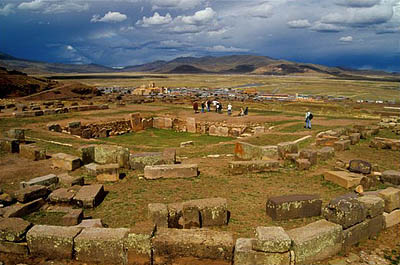 LOCATION
The archaeological complex of Pucará is located 106 kilometers from the city of Puno, in the district of Pucará, in the province of Lampa.
ATTRACTIONS
There are 3 sunken squares or temples with peculiar characteristics, they are U-shaped or ironwork, built with slabs of red and white stone highlighting the sunken central square of quadrangular shape.
Also in this archaeological center are located 4 funerary chambers or mausoleums that contained human remains, associated with gold and copper objects, access to these chambers by a double door jamb that is decorated with steps printed on the top of the stones; towards the top is a platform, built with red stones forming small enclosures, three in each, probably ritual function.
SCHEDULE
Consult with your travel agency.